Meet Our Team
We believe people can only achieve big things by having a great team to work with.
How did you come to live in Sun Valley?
Sun Valley is the best place on earth for everything I love to do!
What do you like to do in your spare time?
I live to be outside exploring. Hiking, and hunting. I specialize in high mountain elk and mule deer but I love it all.
What gets you excited about your role at Silver Creek Outfitters?
I love problem-solving and coordinating projects
How did you come to Sun Valley?
I came to SV to follow my passion for skiing and fell in love with the area and lifestyle
Heather Stanton's attention to detail, style, keen eye, and great suggestions are familiar to many Silver Creek Outfitters' shoppers. Her favorite part of working in the women's retail division? "The people! I enjoy being part of the SCO sales team but I equally love interacting with our customers. Every day is different and that is what keeps things interesting for me," she said. Heather moved to the Wood RiverValley in spring of 2000, arriving Memorial Day weekend to help re-open and manage the Rocky Mountain Chocolate Factory store in Ketchum for some close friends from Park City but her first trip to Sun Valley was in 1995. She remembered, "I tagged along on a ski trip with my brother and his friends, we skied Baldy and danced to live music at the Mint!"
Fun facts about Heather:
• She has two pet donkeys in Ireland, Gracie and Greacie.
• Her favorite things to do on her day off: hiking, biking, nordic skiing and working out. "I really enjoy being active and love being outdoors. The Wood River Valley is such a beautiful area with endless opportunities."
• Originally from Park City, Utah, Heather attended school at Salt Lake Community College.
• Both of her parents were born and raised in Park City and she still considers herself a true "Park City local."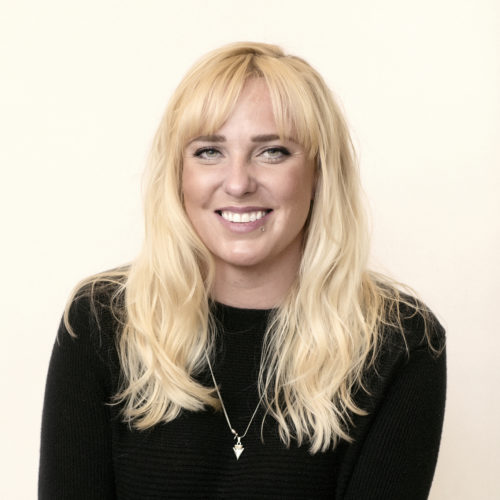 Though Jacklyn Highfill is a familiar face at Silver Creek Outfitters and has been with the team for five years both in the shop and guiding, this is her first year working as the Fly Tackle Buyer and she's excited to move into this role. She loves to fish, in fact fly fishing is what brought her to Idaho. As for working at SCO, she said, "I love the people I work with. It makes such a big difference in a work environment to actually enjoy the company of your co-workers. We're lucky to have that here."
Fun Facts about Jacklyn:
• She was born and raised in Oklahoma. And her first memory of Sun Valley ties back to her roots. She said, "Being from Oklahoma, I love a good thunderstorm. My first week in Sun Valley it stormed every day for a week. I think about that week a lot actually, because in the five years since then it's only stormed about twice!"
• She is classically trained in piano.
• Being outside makes Jacklyn happiest and her summers are spent fishing, hiking, and gardening when she isn't at SCO assisting guests.
What gets you excited about your role?
I love meeting new people. Our customers live incredible lives and have incredible stories. They are so inspiring and truly great people.
What do you like to do in your spare time?
Garden. It's the best therapy in the world. It's a great way to get sunshine and get out with the family.
Les Curvey is not only an avid fisherman for his own enjoyment, he is also a volunteer for Idaho 2 Fly, a nonprofit organization created to help and support men with cancer through fly fishing activities. Check out Idaho2Fly.org whose mission statement states, "Idaho2Fly uses fly fishing and related activities to bring men with cancer together, providing support, education and community to improve their outlook on life. Our fly fishing retreats, and all post-retreat activities are offered expense free to men with any type of cancer in all stages of treatment and recovery." Les first discovered the beauty and serenity of Idaho's trout waters when he organized a meeting in Sun Valley for the sales team of his Massachusetts-based company. Ever since, the lure of area drew him nearer and nearer until he finally decided to move here! He recently joined the Silver Creek team and said he is excited to share his love of fly fishing with guests.
Fun Facts about Les:
• Les is a Midwesterner who grew up in Missouri and Illinois.
• He graduated from Illinois State – go Redbirds!
• After selling his business headquartered in New England, Les took a management role for the parent company with sales responsibilities for the Northwest.
• Most of his free time is spent fly fishing, mountain biking, and playing golf.
If you're in need of some retail therapy, Lillian Brunacini will be delighted to help you select the perfect sweater, dress, shoes, jacket, piece of jewelry … you name it. Lillian hails from Albuquerque, New Mexico, and is a rising junior at Boston College in the Carroll School of Management. She is studying Finance, Accounting, and French. Fishing brought Lillian to Sun Valley. Her father started fishing local waters when he was in college and, like so many, kept coming back and eventually stayed! Lillian said she is happy every day that her family chose Ketchum over all other western mountains towns.
Fun facts about Lillian:
• Her most vibrant early memory of Sun Valley is of a run she took on the Wood River Trail. "I was shocked at how beautiful every second of that run was," she recalled.
• She has had a motorcycle license since she was fourteen years old.
• Still a runner, when she's not working, Lillian likes to hit the trails with her mom, fish with her dad, and hike and bike.
• Working at SCO is like a homecoming for Lillian. She said, "Every time we went into Silver Creek Outfitters when I was younger, it was always such a pleasant experience. I noticed how happy everyone was in a place that fostered different hobbies and passions. I was drawn to work at Silver Creek Outfitters because I wanted to be apart of the team that makes that happen."
Sam Ernst is new to the Silver Creek family and happy to be here. You will meet Sam on the floor, doing, as he said, "Whatever is pertinent to the moment!" Have a question about flies? Sam can help. Would you like to book a guide trip? Find the perfect gift? Sam will prove invaluable. He also prides himself on making sure the retail floor is always beautifully orderly. Sam grew up in Walnut Creek, California, and moved to Colorado for college, graduating with a degree in Fisheries and Aquatic Biology from Colorado State University in 2018. After earning his degree, Sam accepted a Fisheries Technician position with Idaho Fish and Game to work at Hayspur Fish Hatchery. He said, "Being able to fish and recreate in ecosystems ranging from high desert sage to the high alpine on any given day made the decision to move to Idaho an easy one!"
Fun facts about Sam:
• He has two little sisters who he said make him very proud.
• His first memory of Idaho? A moose standing in Loving Creek when he drove up the Hatchery driveway for the very first time. He quickly learned the moose had the right of way.
• Sam spent six months traveling through New Zealand, living in a "minivan of questionable fortitude." There, he spent most days fishing, hiking, and meeting great people. He is beyond thankful for his time there.
• On his days off, Sam will do pretty much anything as long as it's outside. He explained, "If I'm not fishing I like to run, hike, camp, or float, preferably ending the day with a cold, cheap beer, and good company. I also keep close tabs on my favorite sports teams, I'll likely shed a few tears if the A's win a World Series in my lifetime."
• Sam's favorite part about working at SCO is his coworkers, though he thinks the guests are pretty great, too.
Whether you're in Silver Creek Outfitters to set up a guide trip, purchase a fishing license, or update your gear or fly box, Johnny Kamp is ready to help! As he explained, "I am here to help on the floor, giving advice where I can and setting fisherman up for a successful trip on the river." Johnny hails from Bozeman, Montana, graduated from Bozeman High School, and is currently a junior at Montana State University. Despite his Montana roots, Johnny feels, and heeds, the call of the Idaho wild. He said, "I have been coming here as long as I can remember, and I always knew it was the place for me." His love of local waters runs deep and he is excited to share his enthusiasm and knowledge with guests.
Fun Facts about Johnny:
• He is currently the tallest member of his family and would like them to remember that.
• His first Sun Valley fishing memory is on the banks of the stocked ponds out Greenhorn. He recalls being very successful!
• A major in Fish and Wildlife Management, Johnny is very interested in environmental conservation
• On his days off, Johnny likes to … wait for it … fish.
• His favorite part about working at SCO is being part of a great team, providing outstanding customer experiences, and his friends on the staff.
Andrew is a true Sun Valley native, with lineage in the valley going back generations. A four-year-veteran of Silver Creek Outfitters', Andrew has a true passion for fly fishing and for sharing his knowledge of the area he loves. And everyone knows, the kids who grow up here have the best secret spots and best insider tips! Andrew attends Montana State University and keeps coming back to Silver Creek, "Because I really like the team here and getting to talk about something I love to do all day long," he said.
Fun Facts about Andrew:
• His grandfather grew up in Picabo on Silver Creek.
• The same grandfather started Atkinson's Markets.
• When he's not working, he, of course heads to the river to fish and also loves to go paddle boarding on a lake up north.
Alexi Panayiotou grew up in Boise, but threw his first fishing line into Warm Springs Creek with his grandfather when he was a child. At Silver Creek Outfitters, he is here to help and sincerely enjoys daily guest interactions. "My goal is to build truly exceptional rapport with our guests," he said.
Fun facts about Alexi:
• Much of his family lives on the island of Cyprus.
• Alexi studied at Boise State University and received his BBA in Business/Marketing.
• In addition to being a avid fisherman, Alexi also loves to hunt.
• He considers himself a Ketchum "park rat", and plays soccer, volleyball, and pickleball.
You will find Anna Jonsson Connell on the floor at Silver Creek Outfitters, helping guests choose clothing, shoes, accessories, and gifts. Anna first came to Sun Valley 13 years ago on a summer vacation, and recently moved to Idaho with her husband who wanted to be close to nature. "I said that I would come along from Los
Angeles as long as my horse could join us," she explained. Her dream day off? Coffee in bed followed by a long trail ride with her Arabian horse Boomer and her lab, Kobe, capped off by enjoying a good book and a glass of wine in her garden in Bellevue.
Fun Facts about Anna:
• Anna grew up on a working farm outside Lund in the south of Sweden.
• After high school, she went to Paris as an au pair for a year, and never
moved back home.
• She has studied at Sorbonne, then NYU, and later at UCLA.
• Anna speaks four languages fluently.
Beckett Gates' first memory is of his grandfather teaching him to fish in his backyard, an experience that led to a lifetime of loving the local waters and its scaly, colorful inhabitants. Other things he loves about growing up in the Wood River Valley? "The sense of freedom that comes with the great outdoors, and getting my drivers license at a younger age. Among the other wonderful, natural aspects of the Wood River Valley, the fishing and skiing is incredible," he explained. Beckett enjoys his work at Silver Creek, " because I get to develop relationships with my customers and learn a great deal about fly fishing," he said.
Fun Facts about Beckett:
• Beckett loves movies and considers himself a true cinephile.
• He is an avid golfer, surfer, and skier.
• Favorite music? Old school. The Grateful Dead and Bob Marley.
• He is one of five children, with three older sisters and a little brother.
Caroline Dillon originally hails from Mercer Island, Washington but has lived in California for the past eight years. Caroline graduated from UCLA where she studied International Development. After graduation, she moved to San Francisco to work at Amazon. Caroline grew up in Sun Valley during her childhood summers and said some of her fondest memories were made here. She said, "I've always known that at some point in my life, I had to spend an extended period of time in Sun Valley," and she is excited to be part of the SCO team.
Fun Facts about Caroline:
• One of Caroline's favorite things about the area is that "you can fill your day with so many different activities: fishing, hiking, biking, pickleball, cooking. There are endless daylight hours when you can explore!"
• Caroline took her first turns on skis on Bald Mountain at the age of two. "My dad took me to the top and said, 'go for it!'" she recalled. "Unfortunately, I didn't know how to turn, so my Dad had to crash into me to avoid going off a cliff. Tears were involved, but I was hooked."
• She has spent the past 24 winters skiing in Sun Valley and skiing has become one of her favorite activities to do with family and friends. "I still take a moment to take in the view at the top."
• Go Bruins!!
• Caroline has a French bulldog puppy named Toast who is a city boy at heart but adapting fast to the mountain lifestyle
• On her days off, Caroline might be found playing pickleball, hiking, testing new recipes or painting animal (mainly deer) sheds.
Carter Colgate helps in countless ways to make the guest experience at Silver Creek Outfitters' seamless and welcoming. From ringing up orders, to making sure waders are clean and in good repair, and making sure the store looks great, Carter is always on the move. He loves working at SCO "because of the welcoming atmosphere and great co-workers."
Fun Facts about Carter:
• Carter loves whitewater rafting.
• On his days off, Carter likes to sleep in, have some coffee, and head out for a day of fishing, kayaking, golf, or tennis.
• The best part of Carter's summer is hanging out with friends.
• The middle child of three boys, Carter moved to Sun Valley as a young child from the east coast, though his family had already been vacationing in the area for years.
• He learned to ride a bike here, but not how to stop very well. His first foray on two wheels ended up in the river.
What folks say about our team
"In every department, Silver Creek has knowledgeable and friendly employees. Shopping at Silver Creek is part of the Sun Valley experience."

Michael Saunders
"In every department, Silver Creek has knowledgeable and friendly employees.
Shopping at Silver Creek is part of the Sun Valley experience."

Michael Saunders
"We all love Silver Creek and their employees"

Kate Rosekrans
"They were so helpful and efficient with the whole fish licensing process."

Arline Thomas
"You have a great staff. Beautiful store and very helpful staff."

Anonymous
"Shop personnel were great"

Bob Heim
"Always expect top-notch service."

Anonymous
"You have a great staff. Beautiful store and very helpful staff."

Anonymous